Spotlight: Monoprice Bluetooth Audio Products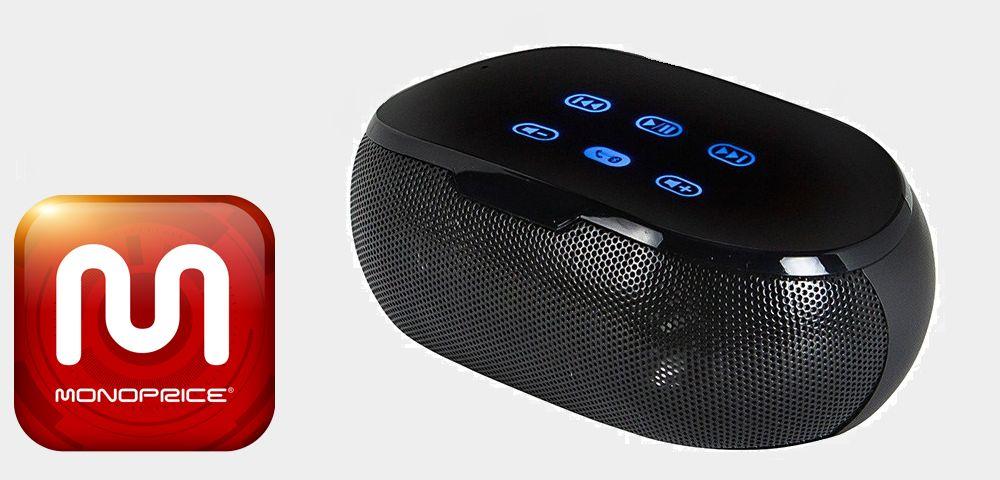 Intro
It's no secret that us Digital Hippos love Monoprice.com for their amazing selection of quality cables, gear and audio equipment for more than fair prices. While that's a given, we wanted to take a dive into some of the newer audio offerings from the folks at MP and see what we could dig up in the exploding world of Bluetooth audio. We jumped in a bit hesitant but come out extremely impressed. Not only is there a wide selection of audio goodness at the site, one product in particular stood out strong. Check out our Product of the Month below!
---
Mini Boom Box - Product of the Month

When I first opened the box for this little beauty, I wasn't really expecting much. Sure, it looked sleek and functional but it's a small unit and I expected a small sound. With the included USB charger, I got this sucker energized in just a few short hours. After flipping on the switch in the back, the top mounted display flipped on bathing me in blue light. Oooooohhh...ahhhhh! It's a purty looking peace o' hardware and immediately held in the sync button for Bluetooth connectivity. I connected my iPhone 5 to it and starting blasting some "Royals" from Lorde. Oh man, I couldn't believe what I was hearing! Not only is the audio crisp and clean, it has a nice little boom of bass to it as well. This product looks good, sounds good and was an easy pick for Product of the Month for us. You can check out the full product page HERE
---
Bluetooth Portable Speaker

After the boom box, I dove into the next products like a rat into Cheeto. The Bluetooth Portable Speaker may have a generic title but the sound really packs a punch. With a deep Bass Boost feature, this speaker kicks out some seriously sound in a lightweight but solid package. It is a straightfoward speaker with volume and Bluetooth buttons but serves its purpose well. If you need a no frills but amazing sounding portable concert on the go for a fraction of the price, this product is a no brainer. Check out it HERE
---
Home Theatre Music Receiver with NFC/APTX


Did you ever just want to connect up your favorite audio player and stream to your home theatre speakers or throughout the house? 'Course you do. Now it's easy, refined and compact. How about that for a commercial script?! Honestly, this little baby does it all with some advanced codec streaming and easy hookups to any audio speaker or home theatre receiver. The best thing about this product? ALL needed audio cables are including which could have easily been sold seperately. Check out the full product page HERE - Kudos to Monoprice for including cables in all the audio products we featured here!