Spotlight: The Digital Hippos Custom Arcade Cabinet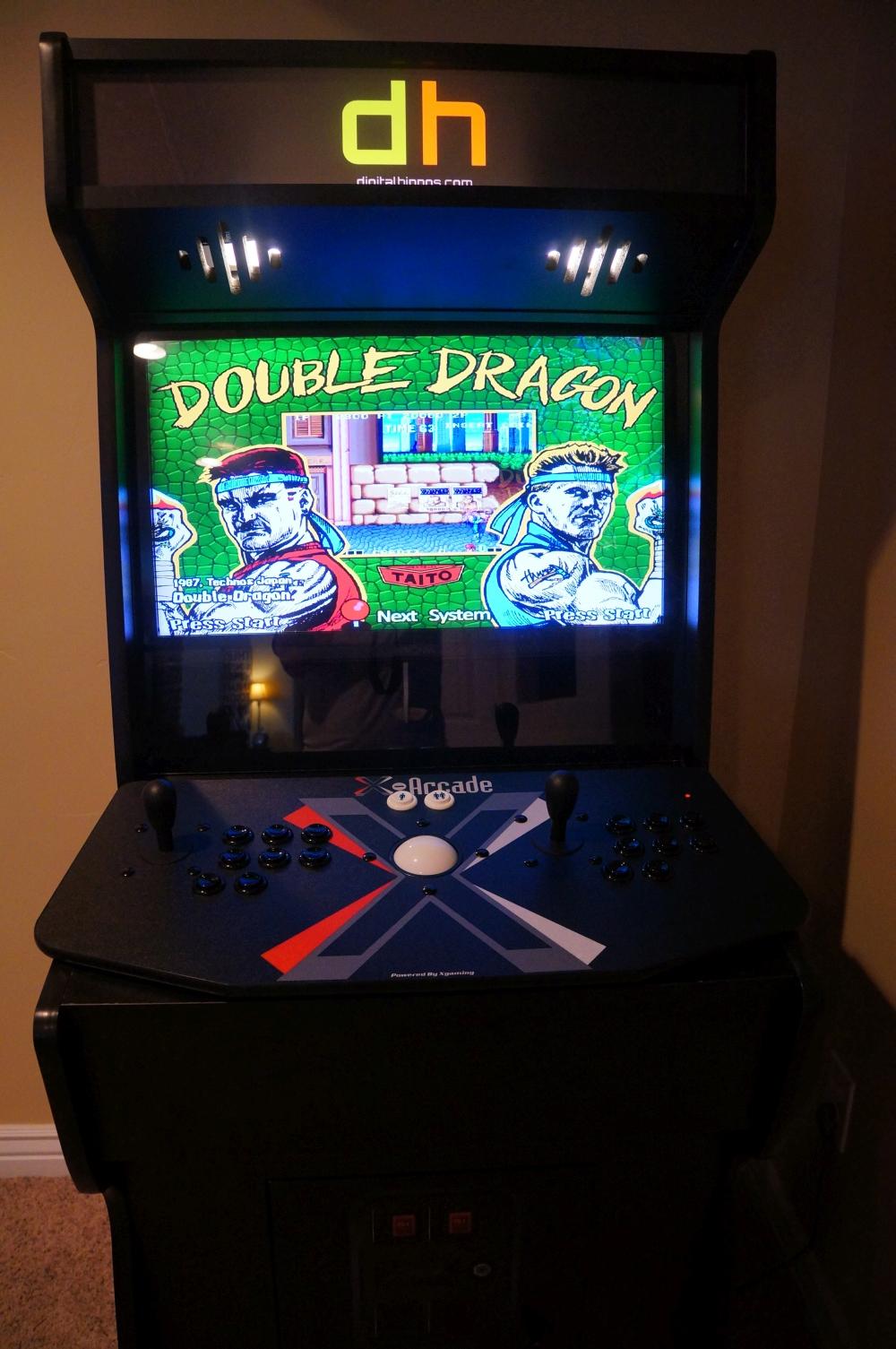 Intro
So, you want relive all your childhood and teenage memories pumping quarters into fancy arcade machines at your local pizza joint, gas station or bowling alley 'eh? How about every console system from Atari 2600 to Super Nintendo? Not a problem either. When I discovered the magic of MAME and other emulators almost 15 years ago, the rush of nostalgia was overwhelming. I long for the long summer days racing down to the local gas station on my BMX bike in rural Utah to spend my hard earned $2 on Outrun, 720, Paperboy, Rolling Thunder and many other classics. Also, I remember the cold winter days that were filled with the bleeps and blops of Pitfall, Super Mario Bros, Sonic the Hedgehog and many others. I've always wanted to have the arcade and console experience at home but never had the means (or space) until now.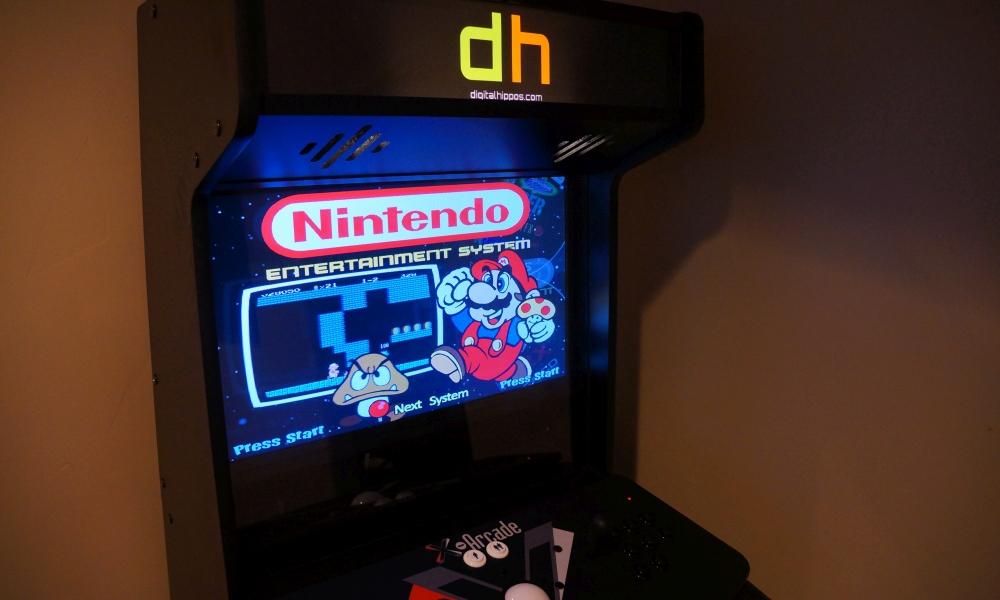 Why play just arcade games when you can nerd it up with NES, SNES, Genesis, and more?!
The Parts and Pieces
The first step in seeking out my ultimate nerdy arcade cabinet dream was actually trying to find a cabinet at all. Do I build one myself? Do I buy an old Ms. Pacman, strip it down and repurpose? Or do I buy a prebuilt system with everything already done for me? There are many pros and cons to each option but in the end, I chose the Premium XL Xtension Cabinet from Rec Room Masters for their quality, flexibility and good looks. In short, I am glad I went this route and the quality of the Premium XL is absolutely fantastic. Although the door design leaves a little to be desired, that is a minor quibble compared to all the pros of such a solid, built in 'Murica piece of hardware. It supports up to a 27" flat screen display but I was able to barely fit in an Insignia 28" 720p HDTV I found from a local classified ad. It fits perfect and looks fantastic. With the cabinet built and my display mounted, not to mention our custom marquee from the wizards at Rec Room Masters, my excitement was rising to get this puppy rolling.
Next up, was deciding on the joystick and controls. Since the Premium XL was designed for the X-Arcade Tankstick, that choice was a no brainer. It slides right in and plugs in via USB for easy and almost instant action. More on that later. Next up, it was time for some premium speakers. I remember several arcade cabinets that were equipped with killer sound systems back in the day and they made a huge difference in the experience, alongside the quarters lined up on the screen and sometimes sticky floors. After testing several units, we went with the JBL Jembe computer speakers that fit perfectly in the XL and sound amazing! Just enough volume and plenty of bass to rock the old classics. Almost there. Nerd level rising.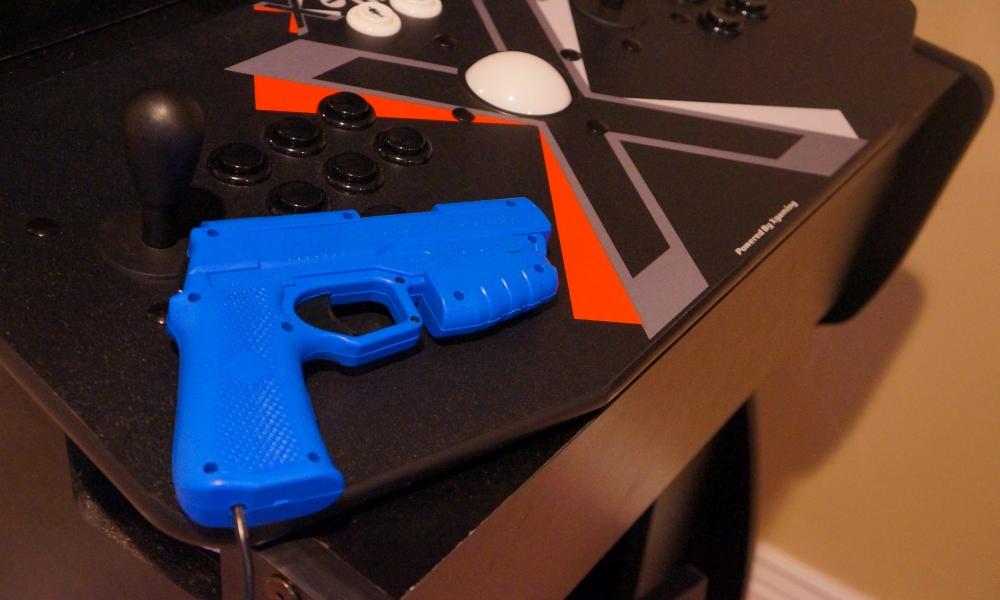 X-Arcade Tankstick + Arcade Guns = Nerdsplosion
So, next in line for the ultimate dream machine was light guns. Hmmm.. that's a tough choice right? Nope. The we chose the Dual Arcade Guns PC Light Gun Kit from AracadeGuns.com. BAM! No pun intended. These little bad boys all solid, well built and feel awesome whilst blasting some Duck Hunt, Carnevil or whatever arcade shooter you can throw at them. With the cabinet nearing completion, it was time to choose a PC and front end interface. First off, I look at doing every custom on emulators, front ends, etc until a found an absolute treasure trove of gaming goodness with the Tiptonware Arcade Hard Drivethat contains almost every emulator and game, preconfigured with a beautiful front end, videos, animations and sounds from your favorite arcade classics and console systems as well. That made a lot of the work easy and worth every penny. It comes on a 4TB (!) hard drive and is absolute stunning. After debating on which PC to buy to shove in the XL, I found an old HP Pentium D system and installed Windows XP (with no Internet) on it. The beast was complete.
Final Thoughts
After some control tweaking and other misc design, the system was up and running. Games were being played by myself and my kids. My grin was huge after playing so many classics and having such a quality system in my gaming room. Over 15 years ago, I dreamed of having of a sweet arcade machine in my basement or mancave, now, it's complete and I look forward to many more memories. Sniff. Please hit me up dustin (at) digitalhippos.com with any questions or help on designing your own system. Enjoy!