Spotlight: 2014 GOG Summer Sale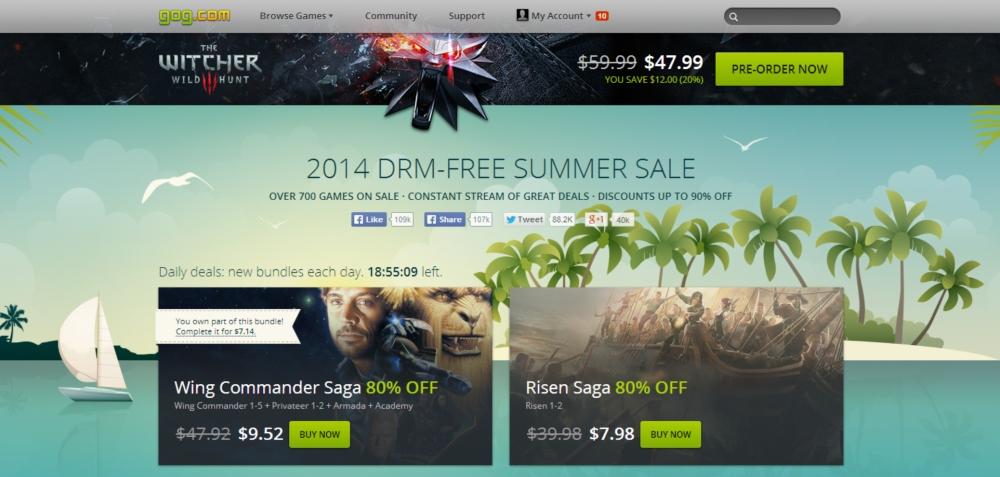 The Scoop
UPDATE: Check out the 24 Hour Adrenaline rush including FFlash giveaways, loads of flash sales and other contests. GOG RULES!!
Whether or not you've heard of or even checked out GOG.com before, you should definitely jump over there right now. The 2014 DRM-FREE SUMMER SALE is on now and it is freaking awesome. I just picked up the entire Wing Commander Saga for under $10 bucks. Also, I have been watching (and buying) a ton off the hourly flash deals that are an absolute steal, even compared to another big Summer Sale going on right now.. *cough*Steam*cough*
Beyond the amazing games at insanely low prices, the fact that you get awesome GOG exclusives like FLAC soundtracks, artwork, etc with a lot of games, there is NO DRM schemes, traps and annoyances to be had, at all. I have bought way too many games on this sale but I am glad to say, I haven't had a single issue with any game either new or old. That being said, even if you do have issues getting a game to run, the folks at GOG offer a 30 day money back guarantee. Seriously, go buy some games, NOW. You're welcome.