Review: M&K Sound X10 Subwoofer
Packaging and Design
The sound wizards at M&K Sound have conjured up some amazing sounding speakers and subs with minimal but gorgeous looks. They specialize in a full, detailed and rich sound used by many studios and sound engineers not only in almost every major motion picture studio but throughout the world. We absolutely fell in love with their M series audio line as you can read in our full review HERE. Apart from the smooth yet bright sound of these compact beauties, they also pack a punch in lows and highs. Well, we recently had the opportunity to up the ante and put the new X10 from the X Series Subwoofer line to the test. We put this beast through the ringer and we punished it with an unrelenting mix of movies, music and pounding tracks. The sheer amount of content we pushed through this beast was staggering but more on that later. 
Unpacking the X10 was nothing short of a treat. M&K continues there amazingly well packaged and designed subwoofers complete with an easy to unload but sturdy package and box. Also, the trademark Michael Jackson.. err high quality white leather gloves are included so you don't smude up your X10. Trust me, you will want to treat this like a baby and you will respect it. Now, after unpacking and seeing the quality components, knobs, dials and switches, I was amazed that this dual 10" sub was not larger and didn't weigh more. Honestly, it's solid and not lightweight but it's amazing what M&K have packed into this semi-compact unit. This is a beautiful and well designed sub that deserves the highest marks.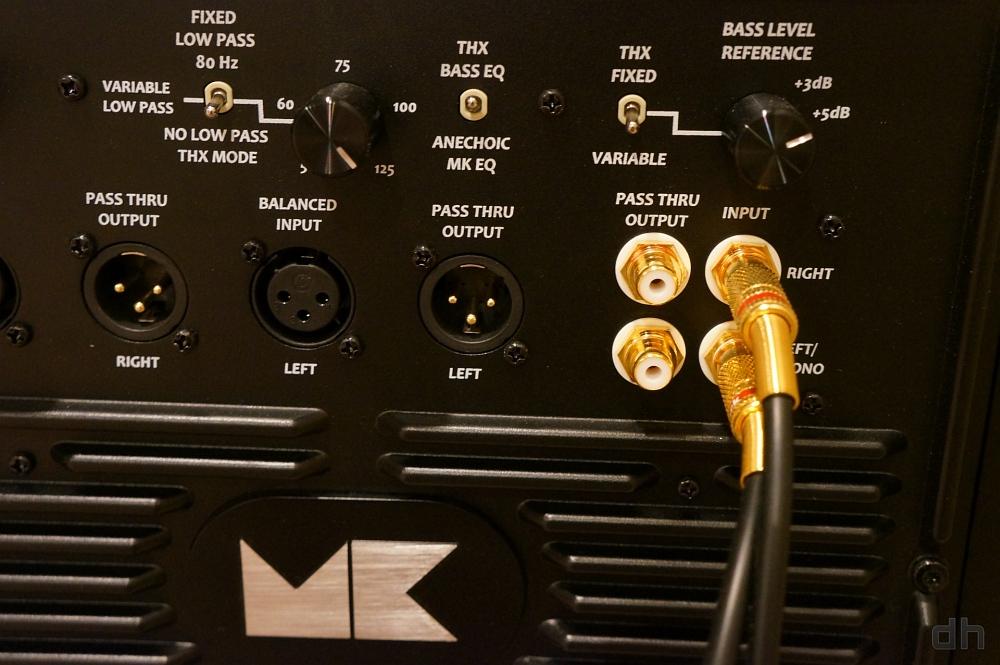 The dial and knobs scream quality. Also, anything that says "THX" instantly gives me geek goosebumps.
Performance
After turning, tweaking and pulling each knob and setting like a prelight check for a Boeing 777, I quickly hooked up the unit to start my torture test. Not so fast, as this isn't a sub you buy from Radio Shack. This required the right placement and tweaking with all the bells and whistles included like THX Bass EQ, passthrough and reference levels. The fact that there are so many choices, I applaud M&K for making them so easy to tweak on the fly. No frills, no complications but plenty of options wins in my book. Now, I decided to test some music tracks first as I find those most inconsistent on subwoofers. From the smooth sounds Josh Groban to the screaming riffs and Freddie Mercury vocal of Queen, everything pounded just right. After adjusting a few of the settings again, I ended up a little higher than reference for room filling bass. After being impressed by the smooth sound of music. I continued to shout at the X10, "Is this all you've got?!" Well, I was about to be shook to death by Star Trek: Into Darkness on Blu-ray. With the 7.1 Dolby TrueHD soundtrack absolutely blaring, the movie roared to life. Every jump to warp speed, every explosion was tight, defined and shook the room without sounding rumbly and messy. No matter what scene hit, the sound was consistent and true. I couldn't this sound was coming from a unit that wasn't much larger than my previous sub.
Just to prove a point, I threw World War Z at the X10 and cranked it. The small nuances, the pounding soundtrack; every bit of bass was bursting to the point of having to turn down the volume so I didn't wake the neighbors or scare myself into the fetal postion. No matter what material tested with, I came away impressed. M&K has a reputation for quality but I think a new benchmark has been reached with the performance coming this compact unit.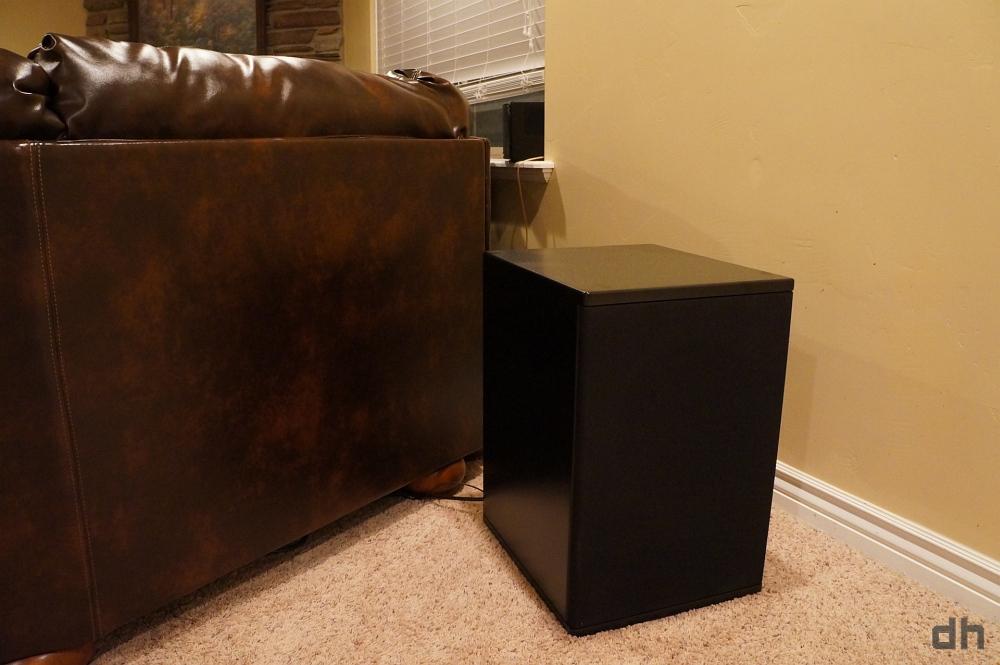 Tight yet Earth-shattering bass out of a unit that compact? YES.
Value
Now that my excitement and utter respect for this sub and M&K Sound has been exhausted to the point of you just jumping out and buying one, I will say that these units do not come cheap. That being said, nothing even comes close to the sound the X10 can crank out in this form factor. I have tested subs almost double this size that sound amazing but nothing this tight and well defined. If you want the best sounded bass whether used for movies, music or a healthy mix, you will not be disappointed with the X10. While its unique dual sub design is an engineering benchmark, it's the smoothness and consistency of lows that really set it apart for us. It's time to start saving those hard earned greenbacks because your home theatre is not complete without the stellar X10. Check out the full product page HERE
Final Verdict:
While the price may scare some consumers away, there is no doubt that is the tightest, deepest and most heart pounding sub in this compact form factor. Despite it being a fingerprint and smudge magnet, the included gloves take care of most of that. This is an incredibly versatile sub that we can't get enough of.
4.5/5 Stars -- Digital Hippos Highly Recommended