Review: Macrium Reflect Server v5

Introduction and Features
Many of us have experienced that sickening feeling: the BSOD or Blue Screen of Death. Your beloved computer or laptop has been transformed from a sleek, slick technological beast into a $1500 paper weight. Don't worry, we've all been there.. or at least, we USED to be there. That was until we found Paramount Software's amazing Macrium Reflect software. Hmmm.. so you want to backup, restore and/or recover your machines? Regardless of whether you are using XP, Vista (What?!), Windows 7, Windows 8 or Server 2003/2008/2012, you have full control over your data with the Server version of Reflect. Honestly, no other piece of software we have seen is so flexible in not only compatibility but a huge list of features.
Backup your entire PC to a single compressed image file.
Backup files and folders to a single compressed archive file.
Recover partitions and entire disk images with just a few clicks of your mouse
Dynamic disk support
GPT disk support
Restore images to new hardware using Macrium ReDeploy - Including Server ReDeploy
Windows Event logging
We tried every single feature of the software and came away extremely impressed. Our favorite features came from deploying a set of Rescue Media discs, restoring an image and resizing the partitions at the same time. There is so much you can do with Reflect, but you'd have to spend twice as much with other software titles to accomplish what you do here.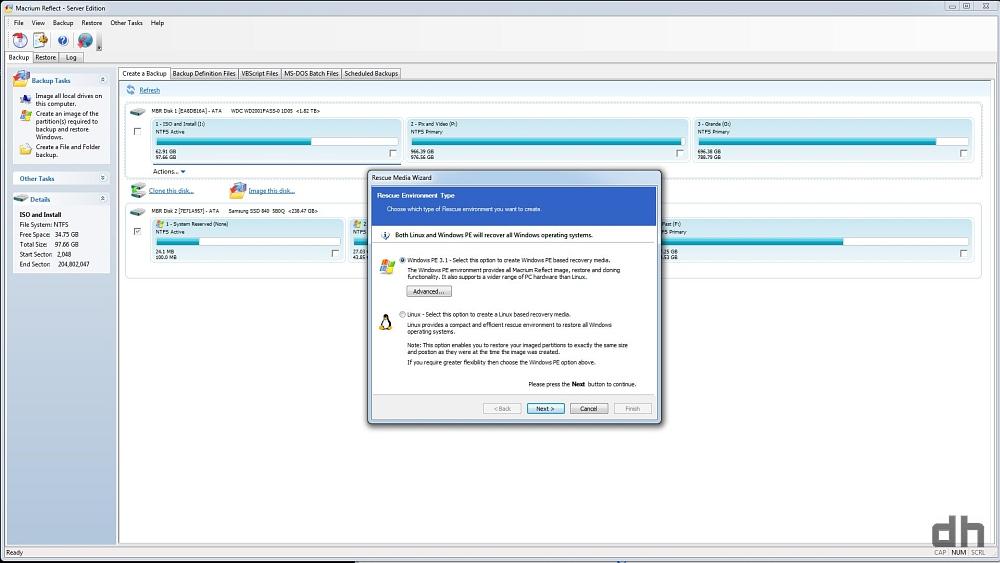 Rescue Me! The Rescue Media functions of Reflect are stunning to say the least.
Performance
Honestly, when I first loaded up Server v5, I was a bit hesitant of the large claims that Paramount had put on the description of their product page. Being the skeptical geek that I am, I put this software through the ringer. I first made an image of my C: drive that lies on SSD, live to another SATA drive. Not only did the backup perform flawlessly, I quickly mounted the image and it popped up as a local drive quickly via the Macrium Reflect Image Mounting Service. Brilliant. After that, I created a Rescue CD via the wizard inside the app. Note only were there simple and easy to use options, there were a ton of advanced options for those boot disk super tweakers. After creating the disc, I took several different pieces of hardware and not only created images from XP, Windows 7 and Server OS', I restored them to different hardware and also similar hardware, regardless of the situation, I kept having nerd chills of how awesome this software was and oh, how I did I ever live without it?! The performance of Reflect Server v5 is absolutely stellar in every regard. Every featured worked well and performed fast.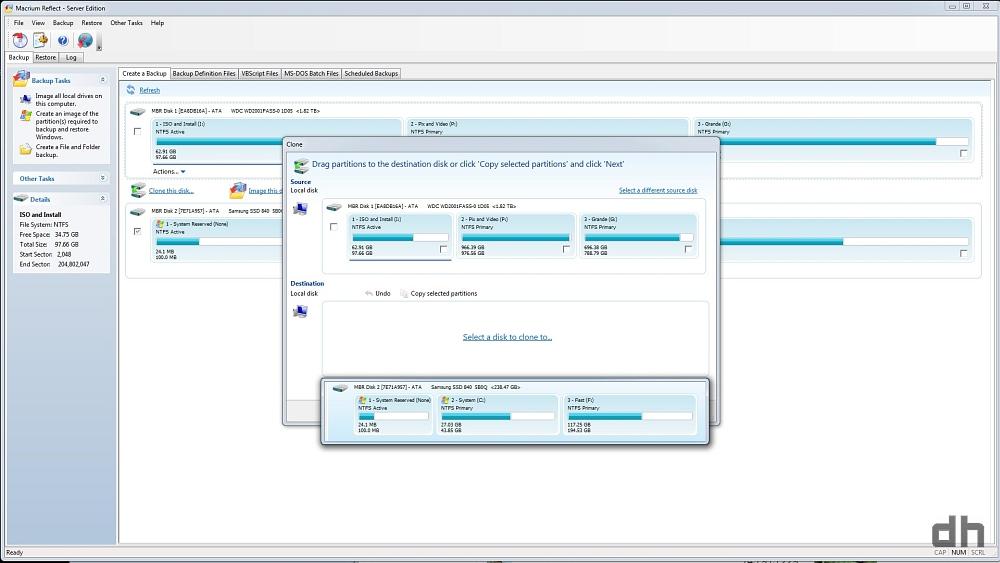 Multiple partions? Old disks? New disks? SATA? SSD?! No problem.
Value
If you can't tell by now, I am extremely impressed with Macrium Reflect Server v5. Not only does it have a ton of features, blazing fast performance and an elegant, refined interface, it's one of the best values in software today, period. There are several different versions of Macrium Reflect including a Standard, Professional, Server and several different site license options. Whether you want to protect your own PC and laptop or run a huge organization, this program pays for itself in the first use. If you ever suffer data loss, failed hardware or corrupt OS, you can restore your system in minutes. I have been using imaging and recovery software since the early DOS days of Ghost. Macrium Reflect is the only piece of software that could handle everything I threw at it. Check out the full suite of options, product information and trial software HERE
Final Verdict:
We rarely give five out of five stars but we had to make an exception here. Whether we were performing a simple backup and restore function to an extremely complex image recovery while resizing partitions using rescue media, Macrium Reflect Server v5 performed flawless. Reflect is simply one of the most amazing pieces of software on the market. With a wide variety of versions, options and a ton of features at fair price, it simply has no rival.
5/5 Stars -- Digital Hippos Highly Recommended