Review: The Incredible Adventures of Van Helsing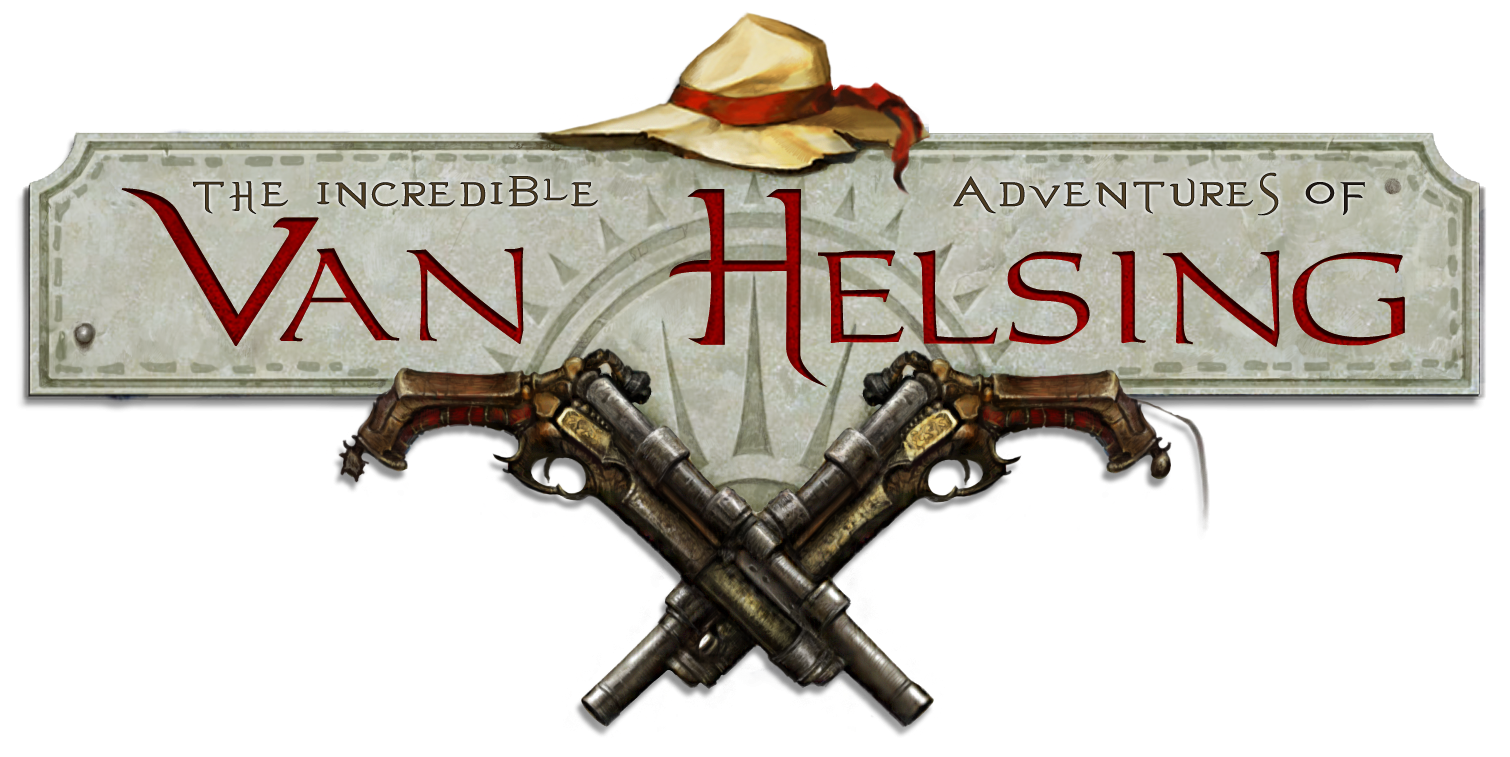 Gameplay
Dungon crawling action RPG's are a genre of games that I haven't played for many years but after recently having a very enjoyable time with Driftmoon I was looking forward to getting into another one. While the title  of The Incredible Adventures of Van Helsing may be a bit overwhelming and perhaps a bit cliché sounding, it does let you know what you are in for. You play as Van Helsing, not the vampire slayer you may be thinking of, but rather as his son. You travel with your ghostly companion Katarina to the steampunk, magic filled Eastern European country of Borgovia. Determined to make a name for your self and step out of your more famous fathers shadow.  
Starting out there are some great things going on with this game. My favorite is the atmosphere and world that the developers at Neocore Games have created. The graphics are beautiful, and the region where the game takes place is well thought out and nothing ever seems repeated to add filler to the maps. Everything is there for a reason and does a great job conveying the feeling  of despair that the late 1800's Europe has to offer. The story unfortunately isn't very memorable and I didn't find myself rushing back to Borgovia for the plot. It is not a bad story by any means, it is just forgettable and a means to an end.  
Combat is what you will be spending a majority of your time doing and it is a little bit of a disappointment to me that it is not more enjoyable. You will plow through hundreds of baddies throughout the 10+ hour adventure, and while there is nothing "broken" about the combat, it just lacks a lot of impact that I would to have like to seen. There wasn't that satisfaction when you defeat your enemy as they usually explode in a squishy sounding mess. Your blade seems to travel through enemies rather than strike them and the mediocre sound effects don't help give any weight to the combat. There is an extensive level up system that you can use to spend your hard earned XP shaping your character as you see fit as well as different perks an skills to further tailor your character to your liking.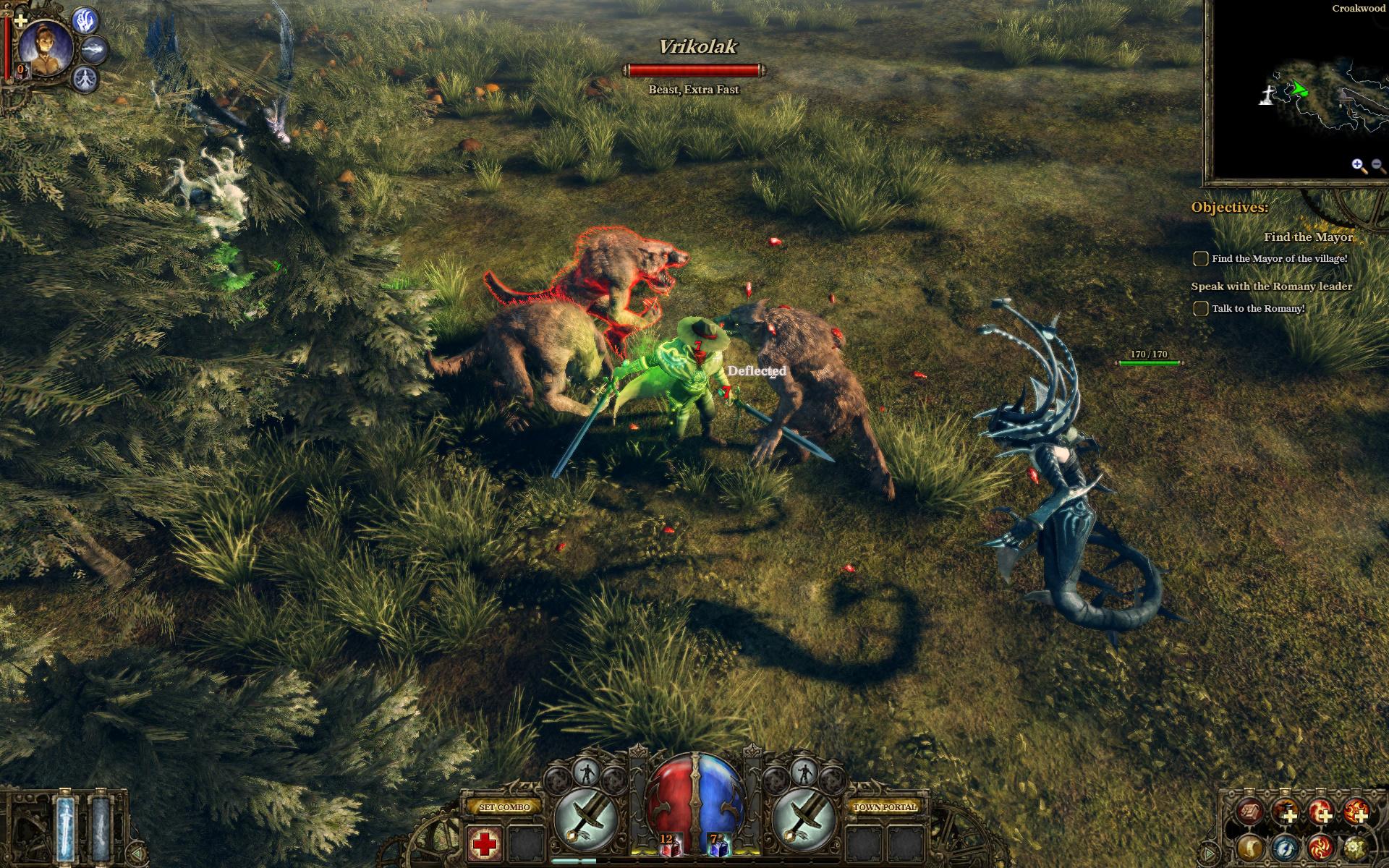 Graphics and Sound
The Incredible Adventures of Van Helsing most times is a beautiful game, and even when it is not at it's best will still impress you with the level of detail in the world. Everything is beautifully rendered full of great lighting and shadows. The overall look of the game is rather muted, but it works well to show off the magical and colorful elements and really make them pop. I loved traveling to the different areas, each of them had so much personality and with the varied locations it was always a mystery where you would go next. The world is full of trees and buildings that give great depth visually to the game, but at no time did the game feel cluttered or was my view obstructed thanks to the wonderfully implemented transparency that the game uses to keep you focused on the action. I have to give a shout out to the areas referred to as "The Ink" The ink is another dimension that exists  
The voice acting of the main characters was great, not something I would expect in a budget title like this. The banter back an forth kept things interesting without becoming annoying or bothersome. The same can't be said about some of the minor characters, they often sounded a little to clichéd and forced, but with the little you interact with them it doesn't take away from the game. The music does a good job of setting the tone I just wish there was more of it as it is all really well produced. The sound effects as mentiong earlier could be better. Attack sounds seemed empty and the effects for the different skillls learned don't have much varity and are generally not very interesting.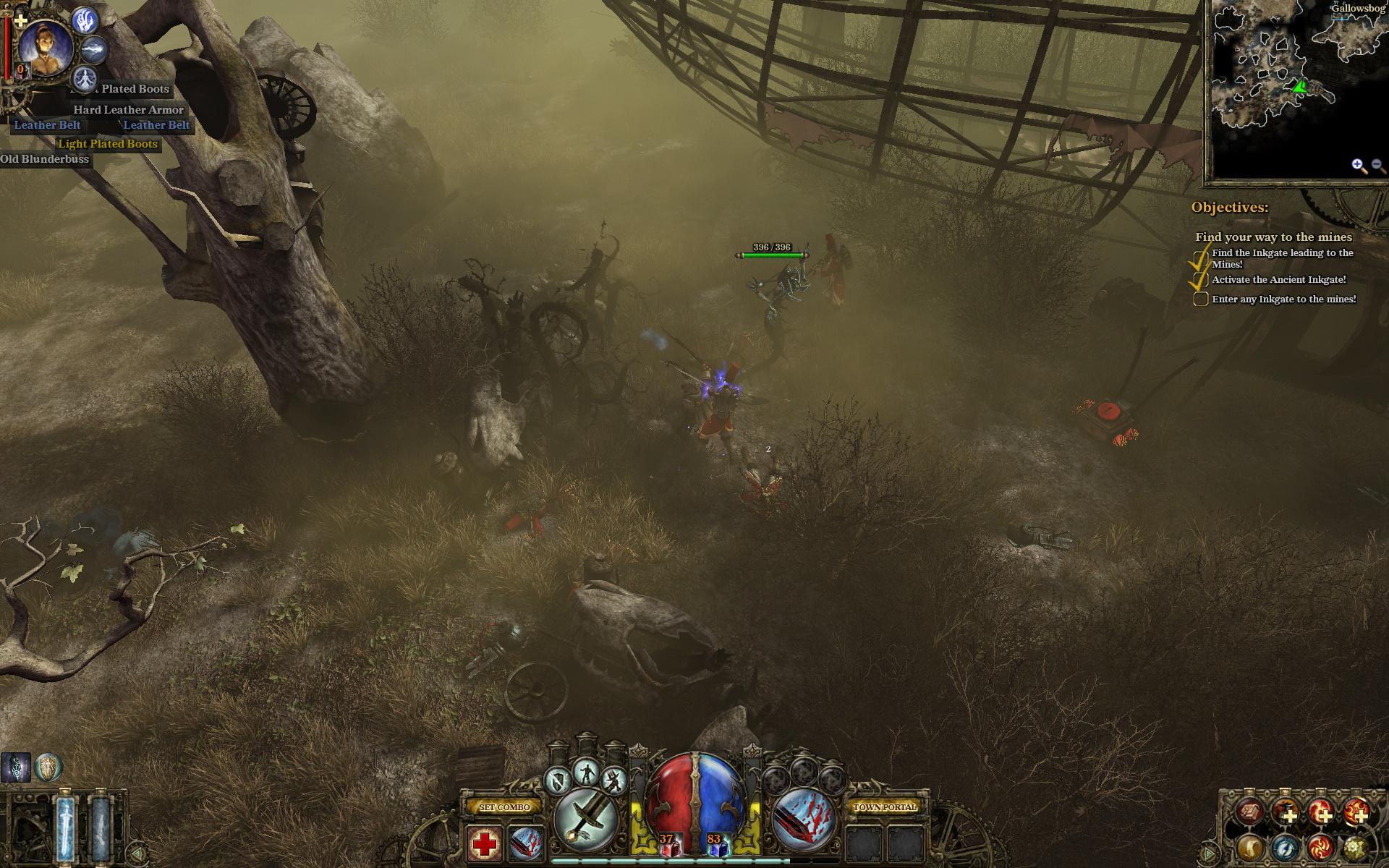 "Whoopie a zeppelin!!"
Fun
Is The Incredible Adventures of Van Helsing worth your time? That all depends on what you want to get out of the game. If you are looking for a deep engaging story, you may want to look somewhere else. If on the other hand you are more concerned with getting your hands dirty and slicing up hordes of creatures all while managing XP points and loot, Van Helsing is just what you want. The action is fast, frantic and plentiful. You are never far from dozens of monsters surrounding you. As you build your character, each click of the mouse becomes more powerful and helps you dispatch of your foes. It is always great to see the new enemies that inhabit each of the games diverse areas. You will see just about every type of creature imaginable, from werewolves, spiders, ghostly apparitions, slug like creatures, swamp dwelling frogs even mechanical automatons. Each of the enemies have different classes and as you go forward you will encounter stronger and stronger enemies. There are plenty of amusing lines, events and things to read or find to keep you entertained and the developers have found a good mix of humor to add in to break up the otherwise dark and dreary world of Borgovia. 
Final Verdict:
Even with it's shortcomings fans of action RPG's should have a great time with The Incredible Adventures of Van Helsing.  For fans of the Diablo and Torchlight games should definitely give this game a look at. If you go into this game knowing and understanding its shortcomings you should have a great time. With news of a trilogy of games planned hopefully some of these small problems get cleaned up, but until them Van Helsing will provide a solid action RPG and an overall enjoyable experience to fans of the genre.
4/5 Stars -- Digital Hippos Recommended