Review: Fractal Design Define R5 Titanium Window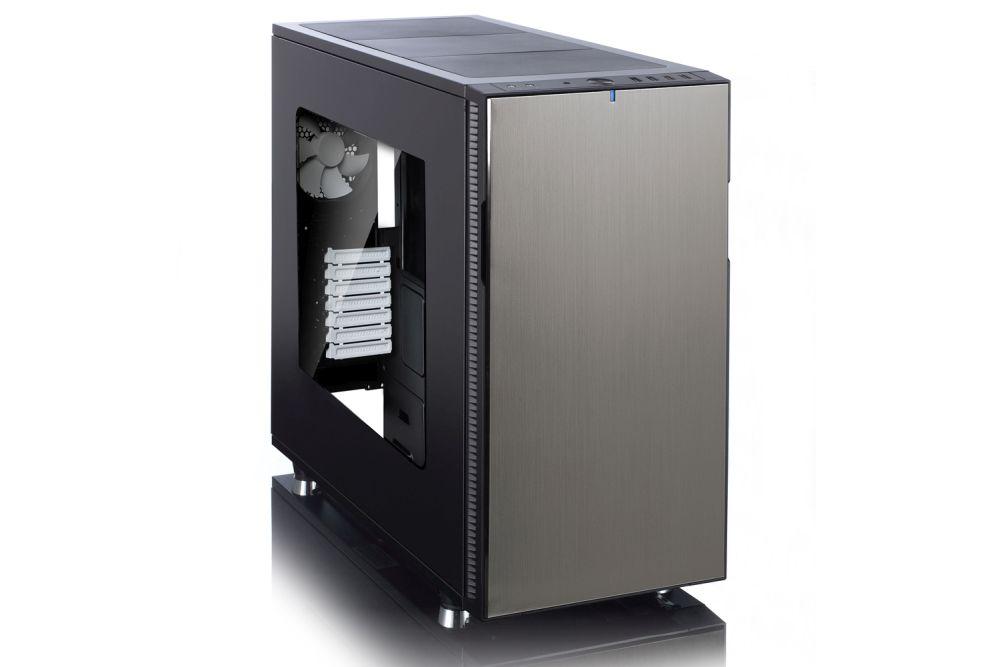 Packaging and Design
To be honest, we get quite a bit of gear here at the 'Hippos and sometimes there are products that just don't get me that excited. With a flood of consumer electronics, PC hardware, and other gadgets, you get a little spoiled playing with all of it. That being said, it is never the case with anything coming from Fractal Design. Despite them being extremely consistent on simple, minimalistic design, they always are cramming something new into these boxes and they never fail to amaze. Speaking of amazing hardware, enter the Define R5 PC case. We opted with the Titanium Window model and definitely do not regret that decision. The case is available is a whole plethora of colors and options if you (are a fool) and don't like the model pictured here. Now, let's get down to business. Yes, the case is in a stellar package and looks 100% gorgeous not to mention, 3x its cost. The Titanium front is subtle but also beautiful in design. Everything is the upmost quality from features, to edges and there is nothing I can say negative about this case besides it's a little "fat" in width but that is such a minor niggle in and otherwise fantastic case, I can't dock it any points. Plenty of airflow options, mounting bays and a window to peep in on your sweet gear. Flawless.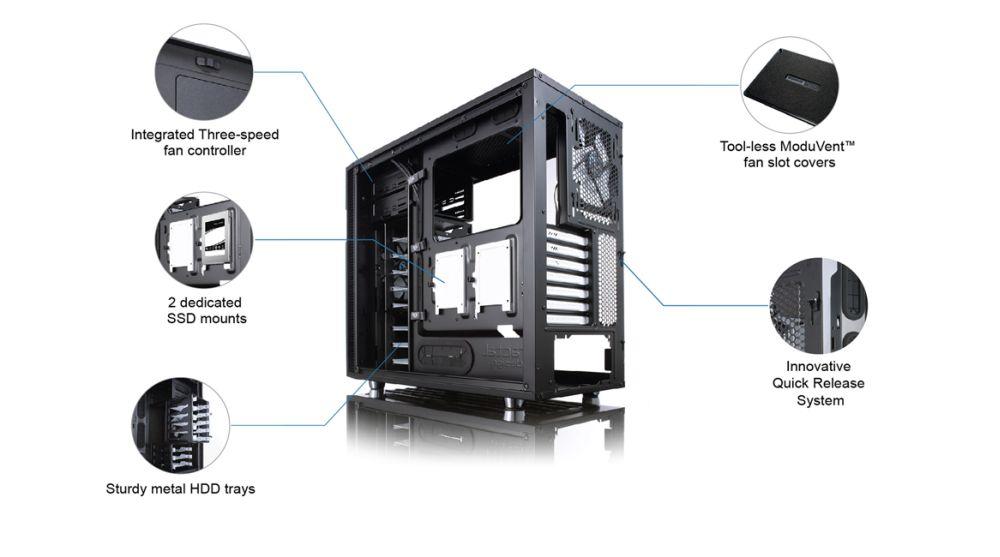 Performance and Value
Look, when it comes to cases with plenty of cooling options, Fractal Design has never left us short of a ton of options. The Define R5 excels when it comes to fan options including NINE fan positions and two of which are included. Yes, NINE fan positions. Not only does this case cool like a June day in San Francisco, (lame joke), it's absolutely quiet with the ModuVent plates and other sound dampening features. This case is quiet, cool, and absolutely beautiful. It's absolutely stunning on how Fractal fits so much stuff in such a compact package but we were never left wanting for any bays, cooling or cabling options. To wrap it all up and most importantly, this case could easily sell for double the amount but once again, Fractal Desing hits it out of the park in a balance between options, build quality and all at an extremely fair price. We have a new favorite case and the Define R5 might hold that crown for a long, long time...
Final Verdict:
Whether you want to cool your beastly gaming rig or just have a silent workstation powerhouse, it mattereth not. Fractal Design not only makes a stunning case in a relatively small package but they do it with style. With tons of bays, spots for fans and other goodies, this is the most stellar value in PC hardware today. Fractal Design continues its unrivaled lead in the most bang for your buck.
Digital Hippos Ultimate Recommended