Review: ELMO BOXi T-350 Portable Projector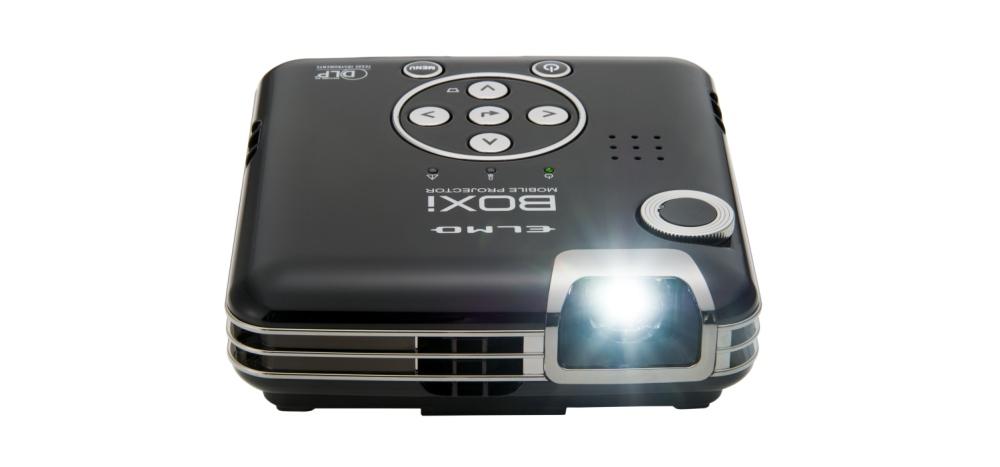 Packaging and Design
As Summer fades and the crisp Fall air pushes in, I have had the extreme privledge as of late to feature, review and play with some amazing games and technology just in time for the favorite season for geeks. No longer will that pesky sun try to brown my skin or interrupt gaming, loads of cinema goodness or any other indoor sport. All joking aside, I am rarely truly impressed or surprised with the sheer amount of media and hardware I pour over. When I first heard of ELMO and their BOXi series, I was mildly excited. Who the devil is ELMO and what is a BOXi? Regardless, I love the idea of portable and compact projectors for presentations, gaming and mobile movie watching. The unassuming package was careful but excitingly opened to find a suprisingly tiny project that isn't much larger than an Xbox 360 controller or my hand (check out the pic below for a size comparison.) After seeing how small this little box o' magic was, my geeky excitment rose a notch. After getting a few small fingerprints and smudges on it (curse you shiny black surfaces!) I quickly hooked up my Xbox 360 to the T-350. What? It has sound? It sounds pretty nice for a unit so small. Everything looks great! I quickly tried out the remote and all the menu options. I noticed the unit was a little on the loud side due to the fan but not enough to detract much from viewing. This is an extremely good looking and easy to use portable projector. Overall, we were impressed with the simple packaging and sleek design.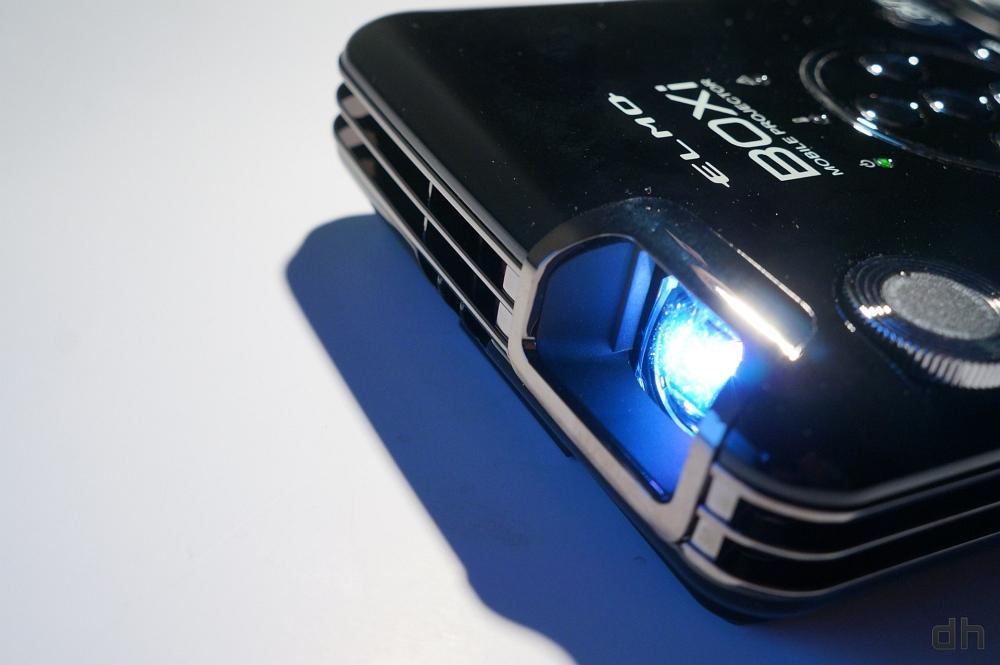 Glow baby! GLOW!
Performance
While the design, size and looks of the projector had me sold, I couldn't wait to jump into the actual performance and image quality of the BOXi T-350. The first chunk of testing was done with a Xbox 360 slim connected via HDMI. Immediately, I noticed the greens and the whites of the 360 logo looked clear, crisp and vibrant. This was without any tweaking or adjusting of settings. After trying a few games on the unit, my excitement rose even further. This tiny unit has an amazing picture and the menus were simple but easy to use as I cranked the brightness even higher. I quickly hooked up my Panasonic Blu-ray player to put it through the Life of Pi image torture test. The first few minutes of the film are absolutely gorgeous and  lifelike with dreamy images of wildlife and nature alike. I was absolutely floored by what I was seeing. By just backing the T-350 back a few feet, the image grew to over 70 inches and still looked stunning. Colors were accurate, blacks were quite deep and whites were crisp. I cannot stress enough how wonderful this little beast looks. You can tweak the settings with custom menus or plenty of presets that looked wonderful. Whether it's gaming, still images, 1080p movies or general PC usage, this truly is an engineering marvel!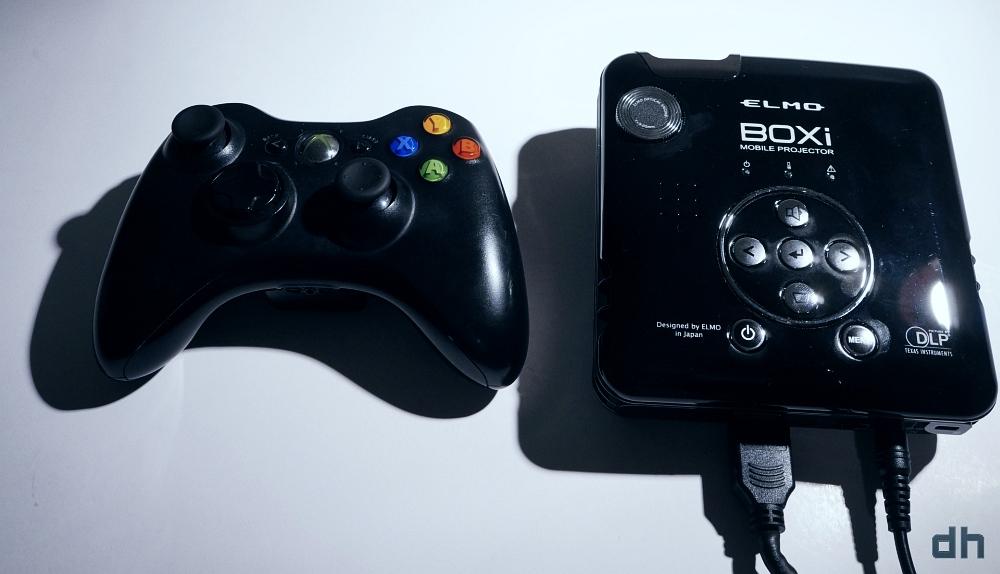 Extremely portable yet gorgeous? YES! (Xbox 360 not included)
Value
By now, I don't you'd be shocked to hear that the ELMO T-350 is an extremely good value to be found for around $549. I have seen several portable projectors in action and while they look and perform sufficient, most  are nothing to write home about. Between the extremely compact design, simple and easy to use menus, included HDMI cable and stunning picture quality, even at larger than spec sizes and distances, this is the most exciting thing in portable projectors today. As a freak of anything media, be it movies, games or general PC use, this unit shines in every regard. There are very few products that I review where I can instantly recommend to any peer, friend or family but I will be spreading the word ASAP to everyone I know. This is, by far, the coolest thing I have tested in quite sometime and an amazing value. The best part is, it's available now and you can check out the site at ELMO HERE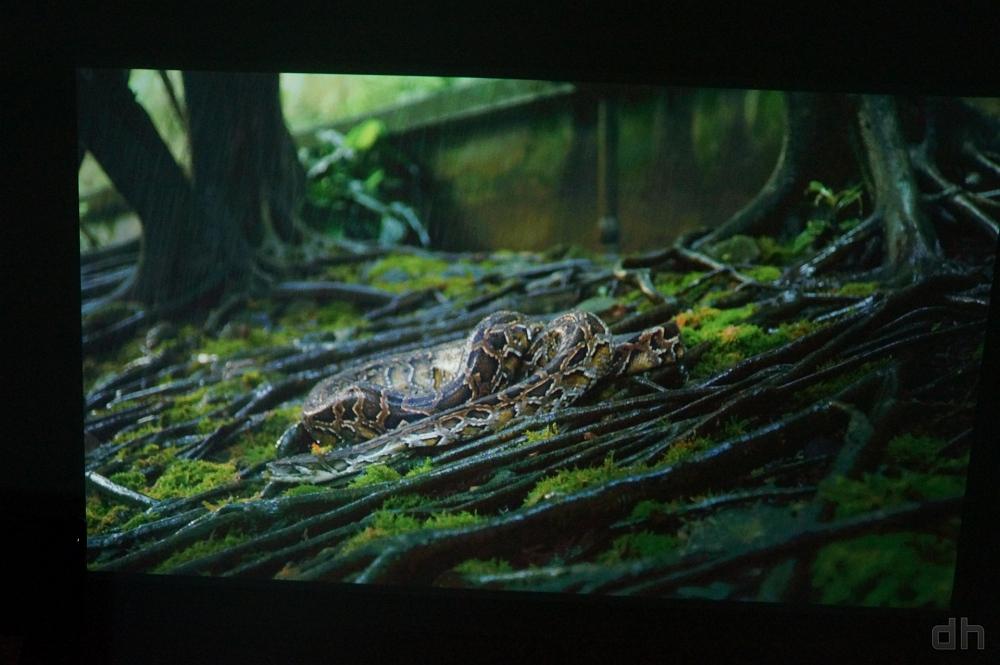 Snakes?! Why did it have to be snakes?! Actual 70" image from the T-350
Final Verdict:
Despite having a mildly loud fan and being quite the fingerprint attractor, the ELMO BOXi-T350 is one of the most impressive pieces of technology I have had the honor of testing. The design is sleek, solid and the picture is bright, defined and absolutely gorgeous. If you are seeking a portable but versatile projector, this is it.
4.5/5 Stars -- Digital Hippos Highly Recommended