Review: Audio-Technica ATH-ANC70 Noise Cancelling Headphones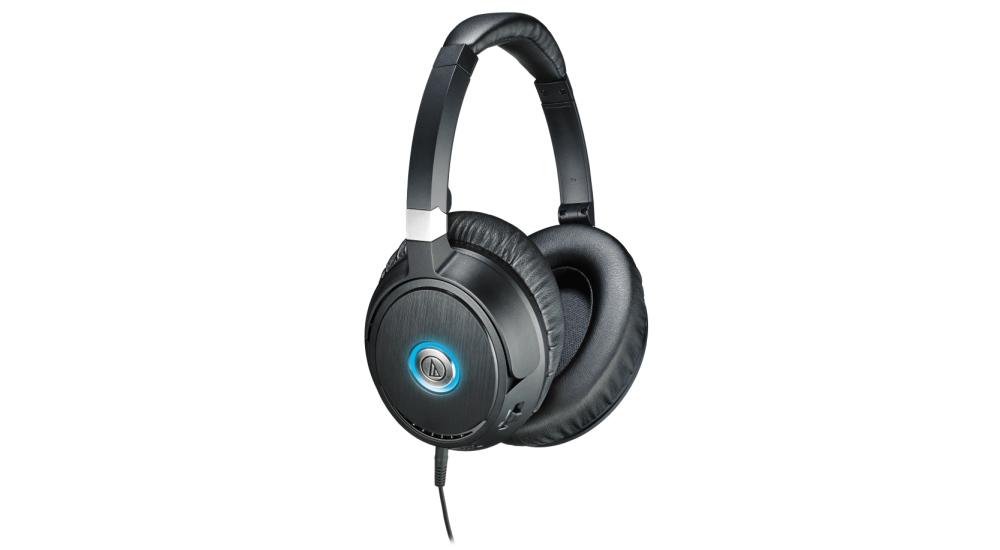 | | |
| --- | --- |
| Type | Active noise-cancelling |
| Frequency Response | 10 - 25,000 Hz |
| Quietpoint® Active Noise Reduction | Up to 20 dB |
| Sensitivity | 104 dB |
| Impedance | 570 ohms |
| Battery | AAA (alkaline or rechargeable) |
| Battery Life | UP to 40 hours, typical (alkaline)** |
| Weight | 218 g (7.7 oz), without cable and battery |
| Cable | Detachable 1.2 m (3.9') cable with 3.5 mm (1/8") stereo mini-plugs |
| Connector | 3.5 mm (1/8") |
| Accessories Included | 6.3 mm (1/4") stereo adapter; airline adapter; AAA battery; carrying case |
Packaging and Design
Another year, another noise cancelling set of cans from the wizards at Audio-Technica. Just when you thought their headsets couldn't get any more beautiful, the ATH-ANC70 showed up. When the box arrived at the office, I gingerly unpackaged the beast but with a package so polished and well designed, I had to slow down and just enjoy it. Once again, AT has set themselves apart with not only beautiful design in package but absolutely solid at the same time. The blue and black carrying case is both compact but extremely sturdy. It looks classy but has just the right amount of flair to turn heads as well. Not only is the packaging stellar, the actual headphones themselves match the same descriptions. Sleek. Sporty. Refined. Yeah, those words are usually saved for a luxury sedan but seriously, these look that good. The set is quite sturdy but I couldn't help notice that the volume control and actual noise cancelling toggle seemed a bit out of place, not only in their location but they felt a bit more cheap than the rest of the set. Not a deal breaker by any means but still, I found myself stumbling when adjusting those sliders and switches while on several flights. Either way, overall, these are a beautiful looking product that are quite well designed and definitely packaged up nice and neat.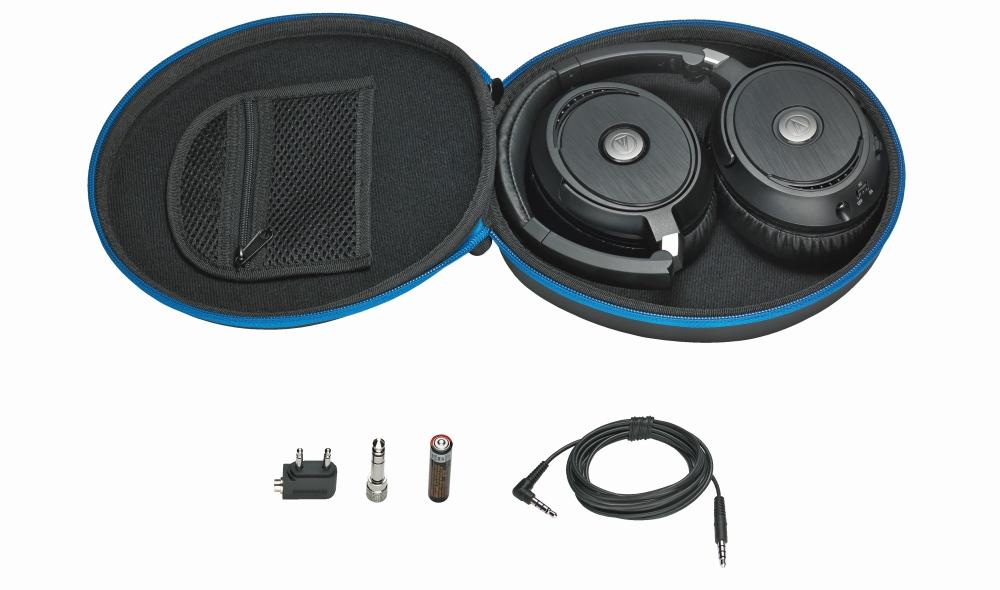 Performance
Now, it's no secret, most head cancelling sets sound anywhere from passable to absolutely stunning. Most Audio-Technica have rated on the high end from what we have tested and I am glad to say that the ANC70's definitely hold up to a lofty reputation. Highs are sharp, detailed and bright without being overbearing. Not only that, mids were solid and punchy while just the right amount of balance to the table. One thing that I noticed, strangely, is that the low end side of things sound actually better with the noise cancelling off. Usually, it's quite the opposite and while the bass sounded good with NC on, it sounds better off. I tried several tests and the results were always the same. Once again, not a dealbreaker by any stretch but if you are a basshead coming from the Beats crowd, the lows can be a tad underwhelming. Overall though, the sound of these cans are extremely balanced and a pleasure to listen to.
Matching the beautiful sound, the actual noise cancelling feature works extremely well in several different environments. Whether in a noisy office or annoying loud airliner (Flying sucks), it was nothing short of a miracle the difference between having these babies and going without. I might jump out of the plane next time I fly if I don't have my ANC70s. Between teens talking and talking selfies to the drunken guy with the Southern accent, I can't take much more of that noise. Another awesome part is you get to make them all jealous as the set lights up a bright blue around the logo when NC is on. It's gorgeous. As you can see here..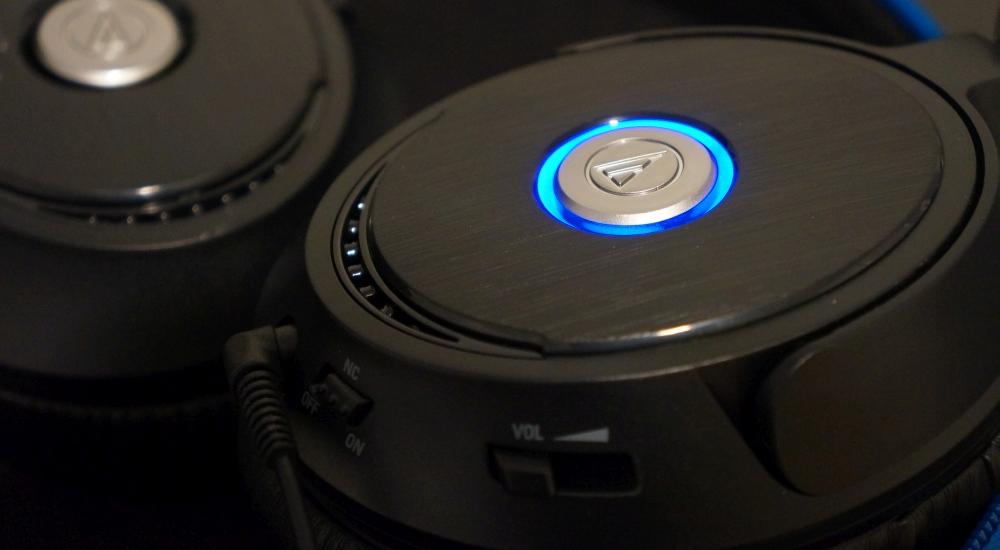 Value
Once thing that I love about Audio-Technica is they keep releasing stellar headphones at a fair price. While most quality sets will cost you well above $200, the ATH-ANC70s have been released for an extremely fair $199.99 retail. It's going to be next to impossible to find a set that looks this good and combine those good looks with quality sound and you have a major contender for set of the year. I have tried a lot of noise cancelling products in the last few years and as far as what I want on my noggin, the ANC70s are definitely towards the top of that list. Do yourself a favor and pick these bad boys up. 
Final Verdict:
Look, there are dozens of options in the noise cancelling arena but the ATH-ANC70 combines solid, study design with absolutely gorgeous looks. While the volume control and NC switch could use a little tweaking, those are nitpicks compared to all the things we love about this set.
4/5 Stars - Digital Hippos Reccommended