Review: Acer S275HL 27" Monitor

Packaging and Design
Whenever a new box of technology goodness arrives on my porch, I get giddy like a schoolgirl... err, I remain tough like the manly man that I am. This was definitely the case when the gorgeous box containing the shiny S275HL from Acer arrived at the office. Immediately, I was impressed with the striking white and silver design of the box that not only screamed quality but was minimalistic while still looking stellar. While I had my reservations, I was extremely impressed not only with the box and packaging but all the well placed cables, including a much needed HDMI cable and easy to assemble base amongst manual, disc and other goodies. Everything you need and more is included in the box and props to Acer for not skimping on the HDMI! Everything is neat, clean and well organized making it a perfect package.
Moving onto the actual design of the hardware itself, it's stunning to say the least. Just look at that stand and color design in the photo above. Done drooling? Ok, let's move on. The coolest and most immediate feature of the S275HL that I noticed was the small but component packed stand including VGA, audio, two (!) HDMI ports and power all on the back of the stand. It's neat, discreet and well placed which can't be said for most monitors. The silver and black shiny accents make this one fo the best looking monitors in this price range bar none. Overall, an extremely well designed and good looking unit.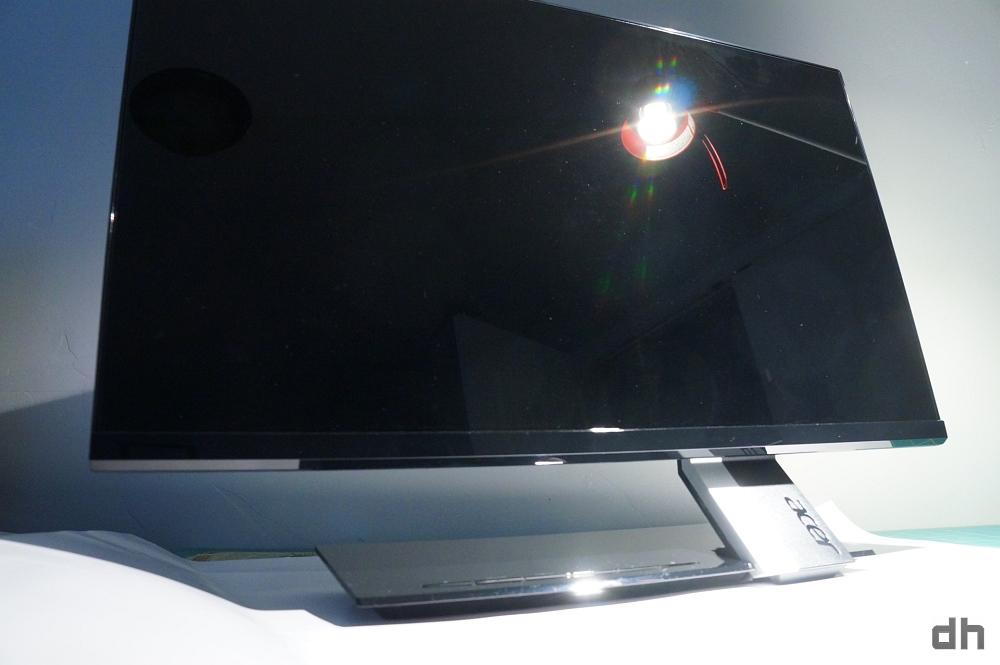 That is one purty lookin' display
Performance
After being extremely impressed by the packaging and design, I immediately jumped in to test the actual image and performace of the display. After auto detecting my HDMI connection to my GTX 780 video card, which needs to be mentioned, THANK YOU auto detect, I noticed the colors and sharpness were spot on. The monitor did look a little bright so I dived into the menus. The menus are clear enough but navigating them takes much practice. After fumbling through some of the controls, I noticed the black levels were more like a dark gray. After putting it side to side with some other IPS monitors, the black levels just could never much up. That being said, the colors, sharpness and overall picture were indeed gorgeous, especially for a monitor of this design. This is definitely an above average looking picture despite a small light bleed from the lower left and those pesky black/gray levels. Regardless, still photos, Xbox 360 games and menus plus everything else we threw it at this looked absolutely gorgeous. Whether you are using the display for PC gaming, general use, HDTV or console gaming, you will be pleased. If you are looking to do professional video and graphics editing, be aware of the black levels. Other than that, you'll have your friends in jealousy mode with your shiny new 27" monitor.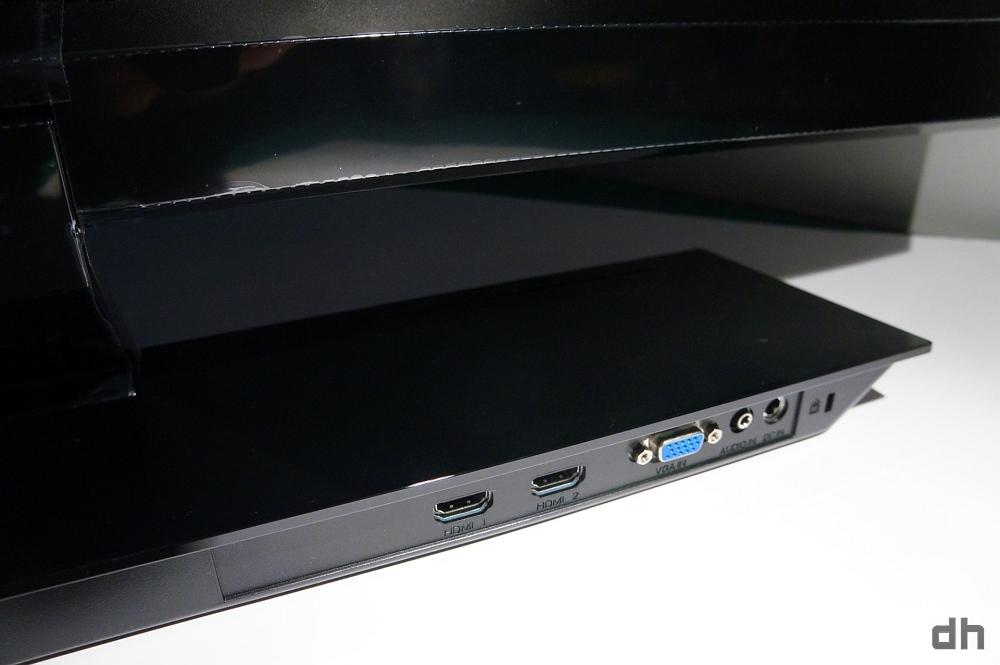 VGA in? Check. Dual HDMI in? Check. Foot rub? Che.. err wait.
Value
If you can't tell by now, the Acer S275HL's beautiful looks, ample connections and solid design makes it a stellar value for around $300. While the black levels may disqualify it for some buyers, I highly recommend this display for PC and console gaming coupled with some general PC usage. It is a versatile little beast with striking colors and perfect sharpness. While there is a lot of competition in this price range, the decision is easy when it comes to the sum of all its parts. I loved the auto detecting ports, including HDMI cable, dual HDMI ports, thin bezel and many other features. You can check out Acer's full product page HERE
Final Verdict:
While the black levels definitely leave something to be desired, the colors, sharpness, sleek design and ample connection options really make this a monitor shine and skyrockets it high on our monitor shopping list. If you want a solid monitor at a discount price, look no further than the S275HL.
4/5 Stars -- Digital Hippos Recommended